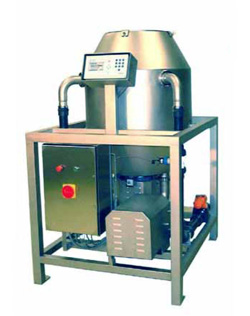 Liquid Ice Blender FB-300
The liquid ice blender FB-300 produces liquid ice out of conventional ice, at temperature ranging from 0°C to -15°C, at thickness 0% to 60% ice ratio. The appliance is fully automatic considering inlet water temperature and brine salinity.
Formax introduces a new generation of Flow Ice generators based on the blender technology. With a new and improved design of a high capacity ice blender we are releasing a machine that can generate up to 10 tons pr hour of flow ice.
What is new?
The production of the ice and brine mixture from the crunched ice is controlled by scientific calculation made in specially designed real time software that is  installed in the control module.  By this the  monitoring of the process and dosing of the components (3 phases) that go into the mixture is very precise.  This gives even quality of the output and full control of the process.