AQI 3100-3800 Water Trainer for Horses
The Aqua Icelander water trainer is the most unique and effective system on the market today and therefore a perfect choice for maximum results in the training program of every horse.
All materials in Aqua Icelander are proven high quality to meet the highest standards of ergonomic and safety design.
The Aqua Icelander has safety glass windows on both sides and doors on both ends to monitor the movement of the horse and to make the entry and exit easy for the horse and operator. A light beam sensor is pointing over the cabinet and if the horse goes out of the beam the belt stops immediately.
Flexible chest bar with easy open latch and easy release emergency handle. The purpose of the flexible chest bar is to give the horse more freedom to move in harmony and relaxed position and can be unfastened to the sides while training. Aqua Icelander is easy to clean. We build this equipment like our food processing machinery. All design minimizes dirt traps and difficult to clean spaces.
EFFECTIVE UPHILL TRAINING
The training belt can be set from 0-10% for uphill training. This function increases the work on the forward moving muscles up to 27%, plus the top line is under positive training through the exercise, strengthening both back and neck muscles.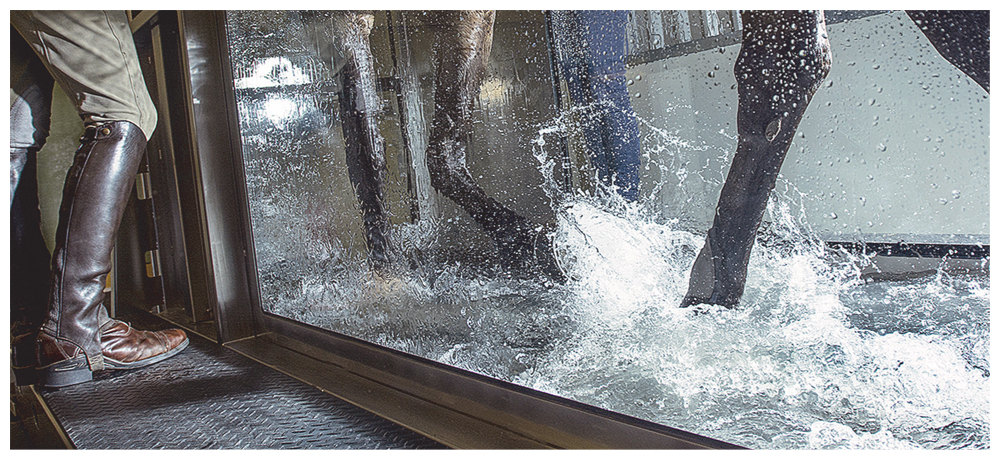 Aqua training is a power and endurance training, without the weight of the rider. The Aqua Icelander is not just offering you this, but also the possibility to train specific muscle groups.
By moving in the water, horses are getting power training without the high pressure on their tendons and skeleton.
Also the way of moving is different. By moving against the pressure of the water horses start automatically using more their back muscles and rear part muscles which gives them stronger top line, more balance and coordination in all movements.
Walk is the excellence gait for aqua-training, because muscle groups will be evenly and balanced trained. The intention is that the horse is having a no load and relaxed training. Their mind is fresh, the body is loose and their walking position is straight. Aqua Icelander water trainer is a unique supplement to the daily training and rehabilitation for sport horses of all kinds.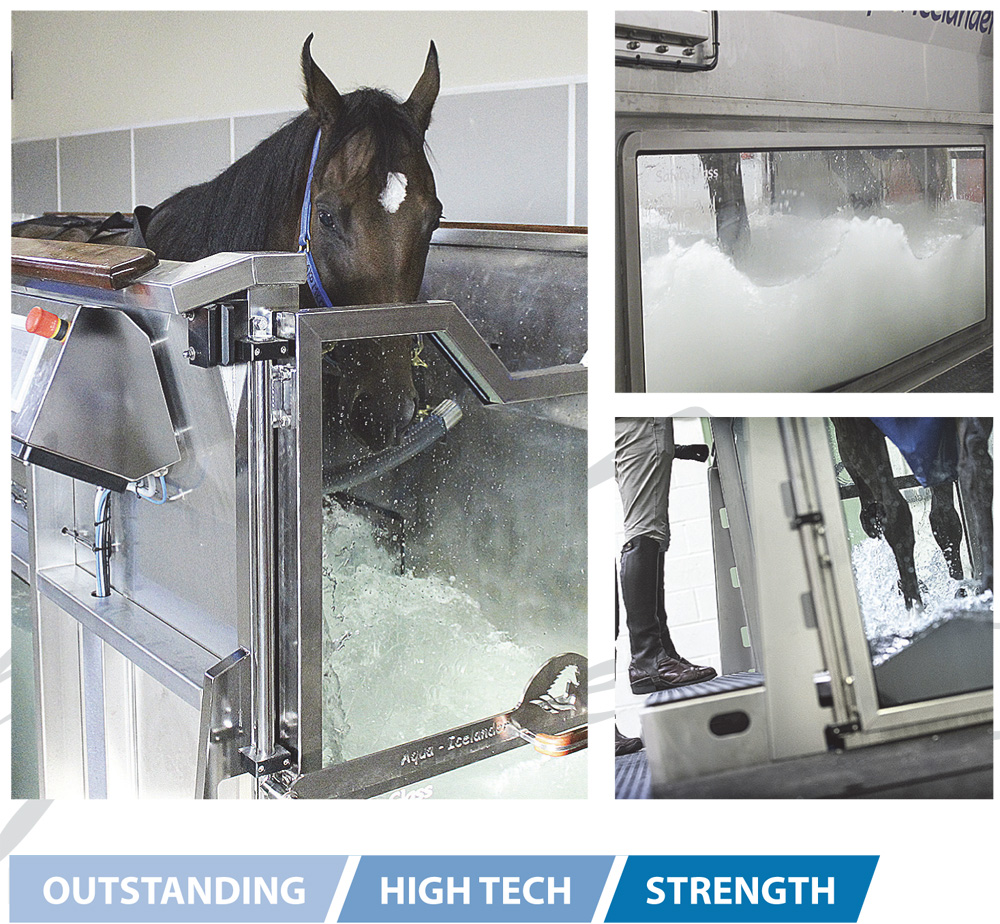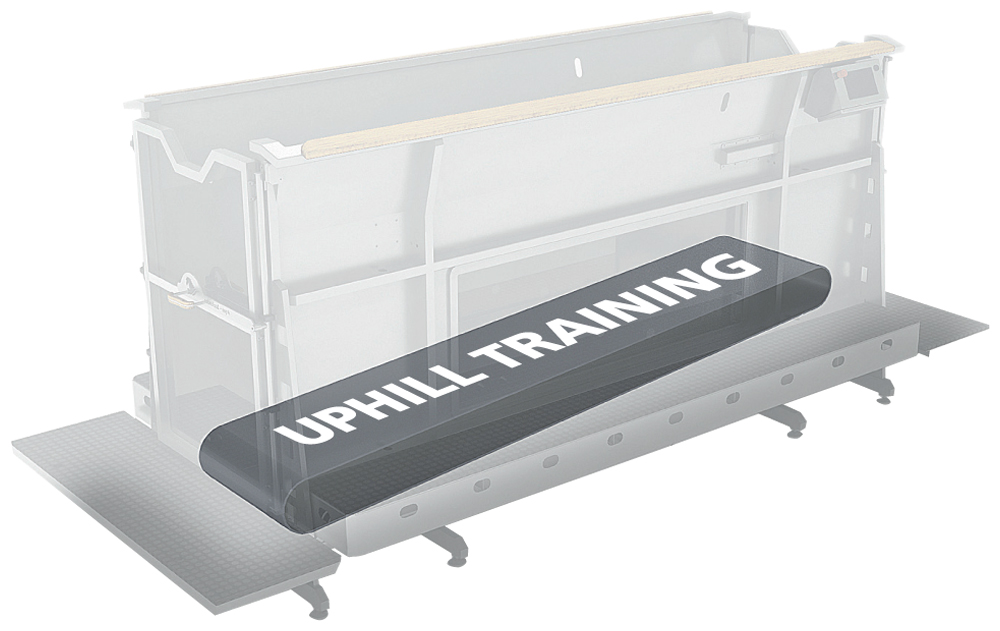 | | | | |
| --- | --- | --- | --- |
| Treadmill | AQI 3100 |   | AQI 3800 |
| Exterior Length built in | 412.0 cm |   | 492.0 cm |
| Exterior height built in | 145.0 cm |   | 155.0 cm |
| Exterior Length floormount | 652.0 cm |   | 722.0 cm |
| Exterior height | 182.0 cm |   | 192.0 cm |
| Exterior width | 179.0 cm |   | 188.0 cm |
| Interior height | 144.4 cm |   | 154.0 cm |
| Interior length | 310.0 cm |   | 380.0 cm |
| Interior width | 82.0 cm |   | 100.0 cm |
| Weight | 1.480 kg |   | 1.780 kg |

References:
   WinStar Farm Kentucky, USA
American Thoroughbred horse breeding and racing farm near Versailles,
Kentucky. Winner of the 2018 Triple Crown.
   Beatriz Ferrer Salat, Gualba, Spain
www.beatrizferrersalat.es/bfs/es/home
Spanish dressage rider Beatriz Ferrer Salat added our Aqua Icelander to her state of the art fascility Villa Equus Gualba early 2016 with great results
   Trifecta equine athletic center California USA
Sport Medicine – Rehabilitation - Conditioning
    Warwichshire college, Moreton Morrel, UK
Moreton Morrell is one of the UK´s top equine training and education centres. They chose AQI 3500XL for their newest training facility in cross country, show jumping and dressage horses.
   Fazza 3 Stable in Dubai
Owned by Sheikh Hamdan Bin Mohammed, the Crown Prince of Dubai. The 2 AQI-3500 trainers are part of a larger horse training facility for Thoroughbred and Arabian horses at Fazza 3 stable.
   Yvonne Groven, Stoeterij van´t Ilperveld, The Netherlands
"Our AQI 3500 excellently supports our horse training. When using the up- hill program their abdominal muscles soften the strain on the back muscles."
   Henrik Wingstrand, Backome farm, Sweden
""The AQI 3000 is an excellent addition to training and riding at our facilities. Our experience is that the ability of the horse to use many muscles under mild conditions in the water trainer, prevents repetitive stress injuries. "